My favorite way to make lavender massage oil is to steep fresh flowers in olive or almond oil for three to four weeks. But, fresh lavender flowers aren't available year-round where I live. Too often, I miss my chance to pick them fresh amidst my crazy summer activities. So, I devised this simple recipe for lavender massage oil that can be made any time of year.
For the carrier oil, choose what best suits your budget and needs. I like grapeseed, almond, and olive oils in that order because they're readily available at my local grocery and they aren't terribly expensive.
Ingredients
Dried lavender flowers
Carrier oil
Lavender essential oil
Vitamin e oil (optional)
Equipment
Scale or other tools for measuring
Glass or non-reactive jar with lid
Rubber scraper
Strainer
Bowl
Funnel
Dark colored Glass or non-reactive jar or bottles for the finished oil
Label and pen
Procedure
Make lavender infused oil using the hot infused oil or cold infused oil method.
Strain the infused oil into a second glass jar and cover it.
Let the oil stand for a day or two so any remaining particles fall to the bottom.
Carefully, pour off the clear oil into a bowl, leaving any settled particles behind.
Add the vitamin E oil and 10 drops of lavender essential oil per 1/2 ounce of infused oil to the infused oil.
Using a funnel, pour the clear oil into the bottles or jars you'll store it in. A larger jar for the cupboard and a second smaller bottle for the bedroom, bathroom, or massage room is a good strategy.
Label and store your finished product.
Storage and Use
Store your massage oil in a cool, dark place. It'll last several months at room temperature and much longer if refrigerated. I recommend you keep a small quantity where it'll be easy to use it and the rest in a well-sealed jar in the refrigerator. Refill from the larger jar as needed.
Be aware, some people are allergic to lavender. Test a small area such as the inside if the wrist or forearm before applying large amounts if you're unsure about possible allergic reaction.
For More Information on Lavender
For more information on Lavender, purchase a copy of The Practical Herbalist's Herbal Folio: Lavender: Perfume with a Medicinal Punch. This Herbal Folio contains expanded information, including: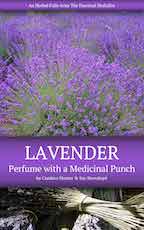 Gardening and Gathering
Animal Husbandry
Household Formulas
History, Folklore, Myth, and Magic
Cautions
A Printable Quick Facts Card
References
Proceeds from sales of The Practical Herbalist's Herbal Folio series go toward supporting The Practical Herbalist website. Support this terrific reference site by buying your copy of Lavender: Perfume with a Medicinal Punch today.