There's nothing so fine as a bite of rich, deep chocolate, unless that chocolate is wrapped around a slice of freshly candied ginger. Between the two, you've got a total taste treat that supports healthy digestion and contributes to complete mental relaxation.
If you're looking for a treat to share with a loved one, this recipe is sure to satisfy both you, your partner, and your budget. You can find all the ingredients at your local super market or grocery store, and none of them ought to cost a bundle. Bittersweet chocolates with 60 percent cocoa or more pair well with the sweet, sharp, fiery flavor of the candied ginger, particulary if you're using mature ginger root. Young ginger root has less fire, so you can go a little lighter on the chocolate to get a pleasing balance.
Be sure to give yourself plenty of time between the candying stage and the chocolate-dipping stage so your candied ginger slices can dry thoroughly. If you're on a tight schedule, you can try rushing the drying process by using a food dehydrator or placing the tray of ginger slices into the oven on the lowest setting for a few hours. Dry ginger slices will ensure that the chocolate sticks rather than peels or cracks away once it's set, so don't try to forge ahead if your ginger slices are too damp.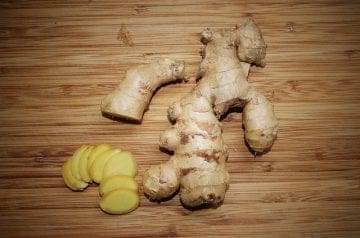 This procedure uses a double boiler to melt the chocolate. If you haven't one, you can use any other method to melt the chocolate that suits you, such as the microwave.
If you plan ahead, you can use the resulting ginger syrup for drinks, as a dessert topping, or as a tonic to aid in digestion later and you can save the excess chocolate for use in another project or, if you want a real treat, as hot chocolate. You can also freeze your ginger peelings for later use in chai. A tablespoon or so of peelings per cup of chai offers up just the right amount of gingery-goodness per cup.
Ingredients
4 cups sugar or honey
2 cup water
6-12 inches fresh ginger root, 285 g or 10 oz.
8 oz. Bittersweet chocolate, 60% cocoa is a good target
Equipment
Measuring cups
Measuring spoons
Paring knife
Cutting board
Bowl
Metal Spoon
Small sauce pot
Stove or similar heat source
Strainer
Heat-resistant container to catch the hot syrup
Baking pan or cookie sheet lined with parchment paper or a silicone mat
Double-boiler
Hot pad
Small tongs or similar for lifting ginger slices out of the hot chocolate
Procedure
Candy the Ginger
Peel and slice your ginger root into very fine rounds, cutting across the grain particularly if you're using mature rather than young ginger root.
Add the sugar or honey and water to your sauce pot and set it on the stove on medium heat.
While the mixture heats, stir it to dissolve the sugar. You know your sugar is completely dissolved when the liquid shifts from cloudy to clear.
Add the ginger slices once the liquid is clear and bring it to a very low simmer.
Let the ginger syrup mixture simmer for 30-45 minutes, ensuring it doesn't boil or boil over but also doesn't fall below scalding temperature. In essence, you're making a simple syrup at this point.
Once the syrup has heated long enough, remove the pot from the heat.
Strain the ginger slices from the liquid syrup, catching the syrup in a heat-resistant container.
Let the syrup cool and strain it into a container for other uses.
Lay the ginger slices on a baking pan or cookie sheet that's lined with parchment paper or a silicone mat.
Let the ginger dry for several hours to a day or two until the slices are dry to the touch and not sticky.
Cover the Ginger in Chocolate
Once the ginger is dry, set-up your chocolate-dipping station: Pour the ginger slices into a bowl and set them next to the hot pad, spoon, tongs, and baking pan or cookie sheet lined with parchment paper or a silicone mat.
Fill the bottom of the double boiler with water and set it on the stove on high heat.
Crumble the chocolate into the top of your double boiler and set it atop the bottom pot.
Melt the chocolate, stirring often and watching so you don't get any water into the chocolate. You can turn the heat down a little so long as you keep a gentle boil generating the steam that will melt the chocolate.
As soon as the chocolate is melted and smooth, remove the entire double boiler from the stove.
Set the double boiler on the hot pad.
Pour all of the ginger slices into the chocolate.
Stir carefully so all the ginger slices are coated with chocolate.
Using the tongs, lift each slice from the chocolate and lay it on the baking pan or cookie sheet.
Once all the ginger slices are transferred, let them stand until set, a few hours to a day.
Storage and Use
Chocolate-dipped candied ginger slices will store well at room temperature for a few weeks or in the refrigerator for a few months. If you make far more than you expect you'll use, you can freeze them in an air-tight container for a year or more.
A few slices will help ease nausea and aid in digestion. Take them just before or after eating as desired. They make a terrific treat if you're looking for a good way to get your daily antioxidants in, too. Use the darkest chocolate you can find if that's the case as dark chocolates have more antioxidants per gram than do milk chocolates.
For More Information on Ginger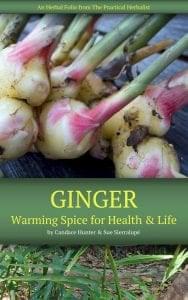 For more information on Tea Tree, purchase a copy of Ginger: Warming Spice for Health and Life. This Herbal Folio contains expanded information, including:
Gardening and Gathering
Animal Husbandry
Household Formulas
History, Folklore, Myth, and Magic
Cautions
A Printable Quick Facts Card
References
Proceeds from sales of The Practical Herbalist's Herbal Folio series go toward supporting The Practical Herbalist website. Support this terrific reference site by buying your copy of Ginger: Warming Spice for Health and Life today.