This recipe is based on the proportions used in commercial Red Tiger Balm®. We've converted some of the ingredients, like menthol crystals, to essential oils for practicality. The essential oils in this formula are all readily available through several online sources and are generally reasonably priced. This makes a strongly scented balm, much like the commercial version. We use Saint John's Wort oil rather than a plain oil or the petroleum base that's used in commercial Tiger Balm®, because it adds to the healing properties of the finished product. Red Tiger Balm® is generally used to ease muscle strains and sprains. It's a pain reliever more than a cold remedy like Homemade White Tiger Balm®.
Ingredients
1/4 oz. Beeswax
3/4 oz. Saint John's Wort oil
65 drops (3.5 ml) Peppermint essential oil
125 drops (6.5 ml) White Camphor essential oil
80 drops (4 ml) Cajeput essential oil
60 drops (3 ml) Clove essential oil
60 drops (3 ml) Cassia or Cinnamon Leaf essential oil
120 drops (6 ml) Cornmint essential oil
Equipment
a kitchen scale
a spatula
a double boiler
a glass jar for containing oils during the weight process
a label
enough small containers with lids to store finished product
Procedure
Gather the ingredients along with the equipment in a clean, well-lit, workspace.
Pour the St. John's Wort oil into a double boiler and heat it over medium-low heat.
When the oil is warm, carefully add the beeswax.
After the beeswax has melted, remove the double boiler from heat and stir in the essential oil.
Pour the mixture into a few salve containers and cap them securely.
Label the containers with the name of the salve.
Storage and Use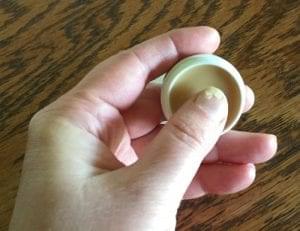 This recipe makes approximately 4 half–ounce tins or 2 ounces total. If you're a little lazy like me, it stores well in a wide-mouth, cup-sized (8 ounces or jelly) canning jar with a tight-fitting lid kept in a dark place, like your bathroom or dresser drawer. As you rub it into your sore, aching, tired, or injured muscles, keep in mind that a little goes a long way. Start with a pea-sized amount and add more if needed to cover the area. Re-apply the balm every few hours as needed until the aching eases.