Comfrey, Yarrow, and Lavender come together in this simple spritzer to make a powerful wound healing team. Lavender focuses on killing germs that lead to infections, including MRSA, staph, and funguses. Yarrow draws injured tissues together while driving out foreign matter of all types. Comfrey works to knit together the injured tissues, often leaving behind nary a scar to mark the spot. Plus, all three are easy on the nerves, which means little to no sting. Children of all ages can surely appreciate that.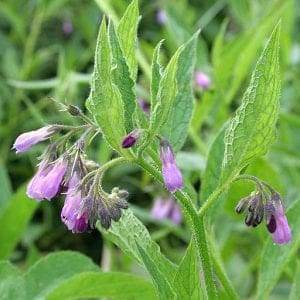 Ingredients
Equipment
measuring spoons
2 ounce glass bottle with a spritzer top
a label
Procedure
Pour the tinctures into the glass bottle.
Carefully add the essential oil.
Your mixture may have a little extra room at the top for more formula so add a little water to fill the bottle.
Screw the cap carefully on the bottle.
Label your final product with the name of the formula and the directions to shake the bottle before using.
Storage and Use
Store Quick First Aid Spray in your first aid kit, herbal cabinet, locker, workout bag, purse, or wherever makes sense for your lifestyle. Use it on wounds as small as a papercut or big enough for stitches for humans as well as animals. (If you're formulating this spray specifically for cats, substitute a quarter ounce of calendula tincture or oil for the lavender essential oil.) Quick First aid Spray will last several years if kept out of direct sunlight and in a relatively cool place.