Melissa Officinalis, a. k. a. Sweet Melissa, Balm
Like most other members of the Mint Family, lemon balm is durable. Come spring in the Willamette Valley, it greets the neighborhood in every available corner. Lemon balm grows happily in my drought garden, along the driveway, under the tire swing and between my vegetable beds. The conventional gardener may see this plant as a weed but the herbalist sees it as an opportunity.
Lemon balm is excellent for treating anxiety and battling some hard-to-treat viruses. The list of symptoms from anxiety is vast but melissa tackles them all bravely. It is equally fearless when it comes to taking on viruses as daunting as Mono and Herpes. This is an herb  every healer wants in the medicine cabinet.
Medicinal Properties of Lemon Balm
Lemon balm's sedative properties are fairly mild but its nervine properties command attention. It soothes the nervous system in an effective and yet gentle way. The list of illnesses it's used for is seemingly endless since anxiety is a natural symptom of being sick. This herb works directly on the thyroid to lessen the output of excess T3 (a common cause of nervous tension).
The stomach is also soothed by Lemon balm's presence. Used as a tea, this herb helps the body to digest food more effectively. The essential oil present in fresh or well preserved lemon balm does wonders to decrease painful spasms that haunt sufferers of IBS. The carminitive properties in this minty little herb are favorites with parents of children with fussy stomachs as well.
For headaches, the body uses lemon balm's vasodilatation properties to ease the tension. Constricted blood vessels are the usual culprit for throbbing temples. Flu symptoms including fever also make use of lemon balm's diaphoretic properties to bring down the basal temperature.
As soothing as this herb is, it's easy to see why it's used as an anti-depressive. lemon balm treats multiple symptoms throughout the body. Many depression problems are relieved when other aches and pains the mind takes for granted are erased. This is what earns lemon balm its name "Herb of Good Cheer."
Conditions Best Helped by Lemon Balm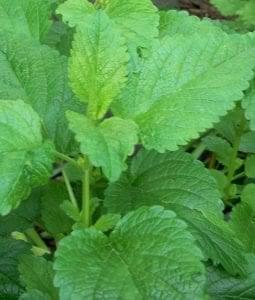 Lemon balm is a favorite for herbalists treating symptoms of  anxiety and sleeplessness. It is soothing both in scent and in taste. Headaches, stomach aches, nausea, depression and nervousness seem to melt under Lemon Balm' tender, loving hand. It's easy to give to children and adults due to its pleasant, lemony taste. Patients who are already taking barbiturates will note that lemon balm increases their effectiveness.
Both cold sores and genital herpes are caused by the same virus family called Herpesviridae. This family also includes chicken pox, shingles, mono, and Sixth disease (roseola infantum). Lemon balm is often referred to in literature as a strong antiviral, but it specializes in treating members of this virus family. Other viruses, like the flu, may have decreased symptoms after using lemon balm, but the flu virus itself shows little sign of damage when this herb is brought into play.
Hyperthyroidism displays many of the symptoms lemon balm solves. The overactive thyroid gland produces too much T3 which causes nervous tension. As lemon balm is ideally suited to treat anxiety and blocks iodine from converting T4 into T3, this plant is the perfect friend for people with this disease.
For more information on the conditions best helped by Lemon Balm, see the topics in Conditions, including:
Genital Herpes
Mild Depression
Headache (caused by anxiety)
Hypertension
Hyperthyroidism
Palpitations
Stomach Aches
List of Lemon Balm's Medicinal Actions
Nervine, Sedative, Antiviral, Carminative, Diaphoretic, Antispasmodic and Anti-depressive.
Medicinal Processing
Lemon balm can render into an effective tincture fairly rapidly. Whiskey, bourbon or brandy make wonderful alcohol bases without the bother of dilution. The standard ratio for weight is 1:1. Be sure to dry extra lemon balm for strengthening your finished tincture if it's not quite up to snuff.
Lemon balm is simple to cook into a glycerite. A standard 70 percent Glycerin to 30 percent water formula is required. The usual weight ratio is 1:5 or 1:4 depending on the strength required. Lemon balm essential oil is very expensive and most herbalist use a few drops of the less expensive lemon essential oil instead.
Bring a smile to every occasion with a taste lemon balm syrup. This is a fast project to complete but make a lot because it is very popular. A little honey with lemon balm and lemon peel and you are in business. Nothing bets the blues like a spoonful of lemon balm syrup.
Try making lemon balm vinegar. A few sprigs tossed into a bottle of rice vinegar, apple cider vinegar or white vinegar makes an excellent base for a spring salad dressing.
Lemon balm tea can be brewed from either fresh or dry herb. Sun tea or stove top brewed tea is a great pick-me-up after a long day at work. Throw a fresh sprig in tea cups of lemon balm tea you serve to guests.
For more information on basic herbal preparations, see the topics in Herbal How-to.
Gardening and Gathering Lemon Balm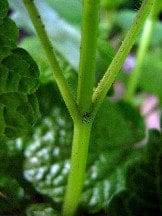 Lemon balm is easy to grow in zones 4 – 9.  It prefers moist, not soggy, loamy soil in full sun but will develop more volatile oils when grown in drier, shadier soils. It can tolerate a vast pH range from 5 to 8 in the soil. Lemon balm flowers in the summer and provides an excellent  source of nectar for bees and hummingbirds.
Lemon balm has the square stems indicative of the mint family with green, oval, finely toothed leaves that grow opposite each other on the stem. The leaves also have fine hairs that capture morning dew and helps keep the plant moist. Flowers are small and yellow to white depending on soil type. It can vary in height between 12 inches to well over 3 feet.
More identification information can be found on the USDA Plant ID site.
Lemon balm can be harvested several times a season after its first year in areas where it grows as a perennial. First year plants or plants that live in areas where it grows as an annual can be harvested once a year just at the flowering stage. Cut the aerial parts of the plant so 2 to 3 inches of the stem above the ground is left to regrow.
To allow the plant to reseed, leave some flowering stems unharvested. Lemon balm also spreads by runners so watch that the roots don't wander into unwanted areas. This herb is vigorous in the right setting and is considered an invasive or noxious species in some parts of the country.
Quick ID tips
Appearance: Square stem with opposite green, oval, toothed leaves covered in fine hairs. Flowers are small and yellow to white depending on the age of the plant. It can vary in height between 12 inches to well over 3 feet.
Taste: Lemon taste with mild minty overtones
Odor: Distinct lemon scent
Using Lemon Balm to Care for Animals
The same properties, uses, and cautions that apply toward humans also apply toward animals for lemon balm. Although lemon balm and other members of the mint family are often averted by animals, lemon balm's topical use is very helpful. Dabbing a cotton swab in lemon balm vinegar and applying it to swollen, unbroken tissue is a great way to bring relief to injured animals. Lemon balm oil makes a great salve that treats cuts and scrapes and quickly soothes upset critters.
Household Formulas, and Non-medicinal Uses of Lemon Balm
A little patch of lemon balm in the garden, particularly near the bedroom windows, brings uplifting energy on dark days. We get a lot of cloudy days here in the Pacific Northwest. I've found that a bit of lemon balm growing in close proximity to my home brings just enough sunny energy to give my family the lift we need during long spans of dark weather. When the going gets particularly tough, we pick a few sprigs for our drinking water, but most of the time Lemon Balm's presence is enough.
Lemon Balm has also been used as the scent for English furniture polishes.
For more recipes and ideas for using Lemon Balm, see the topics in Recipes.
Cautions for Lemon Balm
As lemon balm is intended for use with hyperthyroidism, it's contraindicated for hypothyroidism.
Patients who are already taking barbiturates will note that taking lemon balm internally increases their effectiveness.
Pregnant women should be cautious in using large amounts of lemon balm tincture.
For more information see our History, Folklore, Myth and Magic page on lemon balm.