Lilac shrubs have always been one of my favorite signs of spring. Growing up in Eastern Oregon we wouldn't see the blooms until at least May, but here in the Willamette Valley we are blessed seeing them bloom as early as the beginning of April. Vases filled with freshly cut lilac reminds me of family home and my grandmother who passed on her green thumb to my mother and on to me.
Edible Lilac
Lilac or Syringa spp. (the common species is vulgaris) is in the olive family and is native to the Balkan Peninsula in Southeastern Europe. People emigrating from Europe brought the shrub to plant in their gardens in order to savor a piece of home. Here out west pioneers brought lilacs with them during the 1800's and now you may find lilacs that grow nearly wild in abandoned lots and homesteads.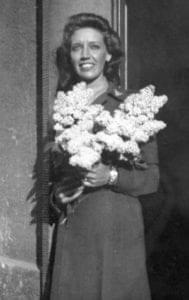 Lilac fragrance is wonderfully intoxicating however it is very difficult to capture the scent and only until recently is there even a true essential oil made from the flowers.
The flowers are edible and have some medicinal qualities. I have to say eating even a single flower raw is a flavor exploding experience with slight astringency (drying to tissues), almost bitter, and very floral. I would say these are best for garnishes and edible flower displays on pastries rather than whole meals.
Medicinal Lilac
Medicinal uses are still a gray area when it comes to just the flower. Most resources that I have found (random blogs, pfaf.org, A Modern Herbal) list that the medicinal benefits of Lilac come from the leaves and fruit. Apparently used as a tea or infusion historically it has been used as a anti-periodic. Anti-periodic basically means that it stops the recurrence of disease such as malaria. There has been some studies that indicate a febrifuge action that may help bring down fever.
Lilac flowers have astringent, aromatic, and perhaps a little bitter qualities. Astringents tighten, draw, and dry tissues such as skin. So a wonderful application would be a cold or warm infusion to use as a toner on the face. Or using the same method but apply to rashes, cuts, and other skin ailments.
An aromatic action causes irritation to the place that it is touching (think GI tract) and irritation brings blood flow and blood flow equals healing! Eating the flowers raw may help with gastric issues such as flatulence or constipation. Making an herbal infused oil may be a great way to capture the aromatics for healing purposes and to make your own fragrance oil.
Lilac Honey Recipe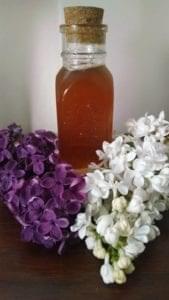 Jar size of choice (1/2 pint, pint, quart etc.)
Local, pure honey
Freshly picked lilac flowers
Fill the jar with freshly picked flowers with a little room at the top. Pour over honey to the top and cap. Allow the honey to infuse for at least 6 weeks. No need to strain it afterward – eat the flowers along with the honey! Great for adding to recipes, spreading on bread, or adding to teas.
Lilac Syrup Recipe
Lilac Syrup turned out to be an excellent and delicious sweet treat.  Pour over pancakes, add as a liquor base, or a nonalcoholic lemonade base.  I froze the extra syrup in mason jars to keep year-round.
Here is a recipe for a simple syrup I found on a blog called Holly and Flora (https://hollyandflora.com/2014/05/14/3-recipes-for-lilac-blossoms/):
1 cup water
1 cup sugar
1 cup lilac flowers, stems and green parts removed
5-8 blueberries, for color
"…combine the water and sugar over medium heat on the stove. Heat until dissolved. Add the lilac flowers and simmer for 10 minutes. If you want a brightly hued syrup-like mine, add about five blueberries. The color will pop and add a great dimension to your cocktails. Remove from heat, drain through a sieve, bottle, and store in the refrigerator."
Other Lilac Recipes
Lilac Jelly (http://the3foragers.blogspot.com/2011/05/lilac-recipe-lilac-jelly.html)
Lilac Wine  (http://www.grapestomper.com/reclilac.html)
Lilac Liqueur/Cordial  (http://www.urbanhuntress.com/2013/05/foraging-lilacs/)
Lilac Ice Cream (http://www.thedailyspud.com/2009/05/14/smells-like-ice-cream-to-me/)
Bio
Anna Mezger-Sieg Bradley has been studying herbalism, ethnobotany, and ancestral living skills for over 10 years.  She is the author of the blog Feral Botanicals.  Anna is a Clinical Herbalist and is on the Herbal Team with Occupy Medical.  She co-founded a nonprofit called Whole Earth Nature School that connects children to their environment through nature awareness. Anna lives in Eugene, Oregon with her husband and her young son.