You can also listen to Real Herbalism Radio here:
Our Website | iHeartradio | Spotify | Alexa Flash | Pippa | Itunes | Stitcher
Whether you are on Iphone, Android, or your laptop we have you covered.
Herbal medicine is everywhere and so are herbalists. Last week, we talked with Jamie Scepkowski, owner of Salmon River Apothecary, Herbalist and medic about the emergency herbal care that she practices in California and on the US/Mexican border. Sue and Candace share a sampling of herbal care that they rely on for shoring up physical and mental health needs.
Herbs we mentioned:
Pedicularis
Osha
Horseradish
Crampbark
Willow
Jamaican Dogwood
Podcasts related to this topic:
Recipes for medicinal herb blends we mentioned:
Herbs in the News
We analyze and debunk the Jan. 3, 2019 article in Insider Magazine – 4 Dangerous Things Drinking Apple Cider Vinegar Every Day Can Do To Your Body and 2 Ways It Can Help by Janaki Jichotvisut
Jamie Scepkowski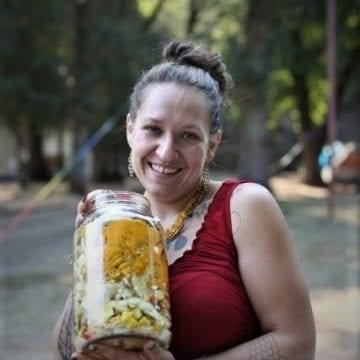 Jamie Scepkowski is an herbalist, medic and owner of a small herbal apothecary located on the South Fork of the Salmon River in Northern California called Salmon River Apothecary and Gifts.
YOU CAN FIND JAMIE AT: