SOUTH AMERICANS
A classic regional sandwich meat from Northern Minnesota. 
I grew up on the Iron Range in Minnesota, where the winters are cold and the summers short. We loved good, hearty foods that warm you through and through. South Americans, sandwiches that marry the flavors of the American Southwest with the pure joy of a good Sloppy Joe, fit the bill. I was astounded when I made my way in the world that other people hadn't heard of them. It turns out, they're a regional comfort food. My dad learned to make them from his dear friend, Bob Bantz, who learned them from his grandmother. For me, they're a connection to my roots, one I've shared with my own son, too. I guarantee they'll put a smile on the face of any Northern Minnesota native you know.
This recipe is inspired by Bob Bantz and his grandmother from Gilbert, Minnesota. It is dedicated to the memory of both of them. We hope you enjoy it.
Dave Helf and Patrick Hunter 07-05-19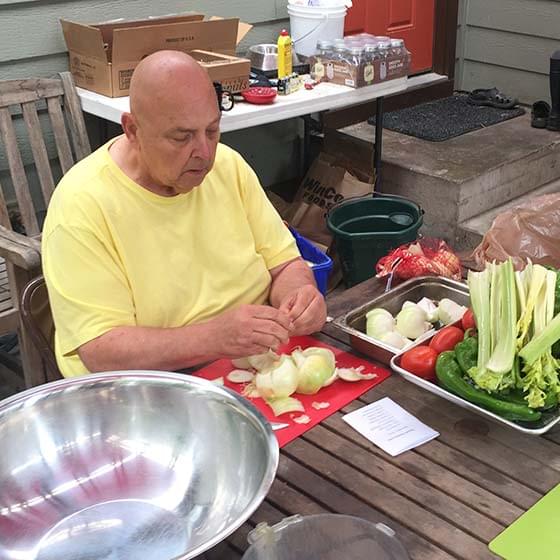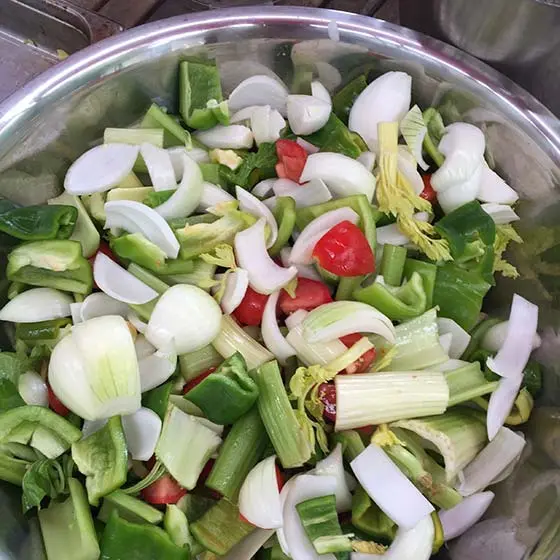 ONE
Coarsely chop the vegetables into uniform shapes. Put them into a large bowl and mix them together.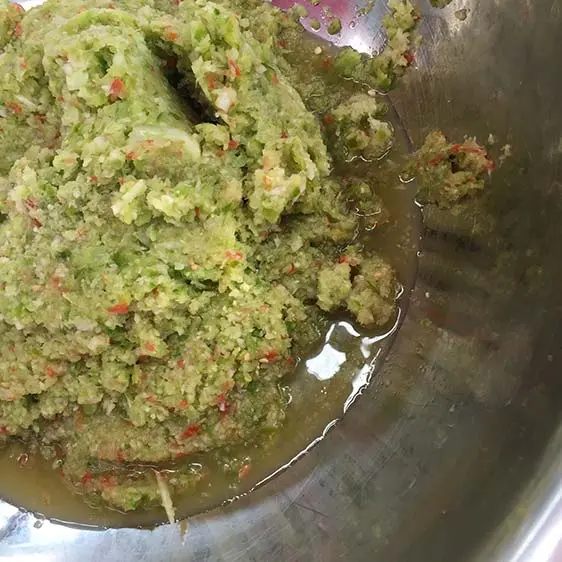 TWO
Add batches of the vegetables to a food processor and process the vegetables into a fine consistency, but not a paste.
THREE
As you process the vegetables use a colander and separate the vegetable juice from the pulp. Place the drained pulp into another bowl and reserve the vegetable juice for later.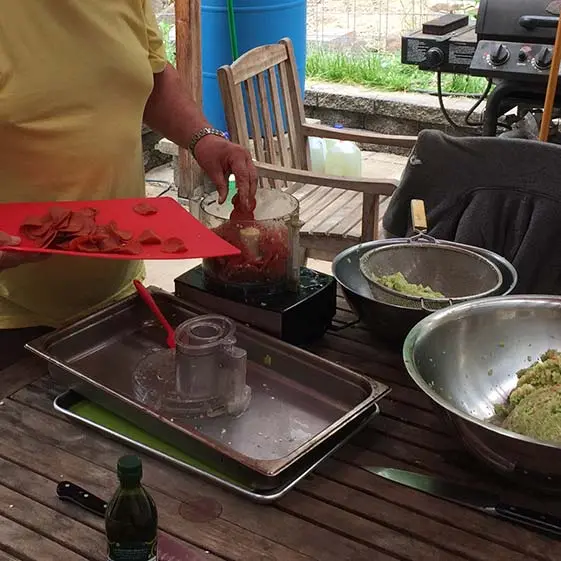 FOUR
Process the pepperoni into a hamburger like consistency using the food processor.
FIVE
Brown the Hamburger and Pepperoni and do not drain the fat.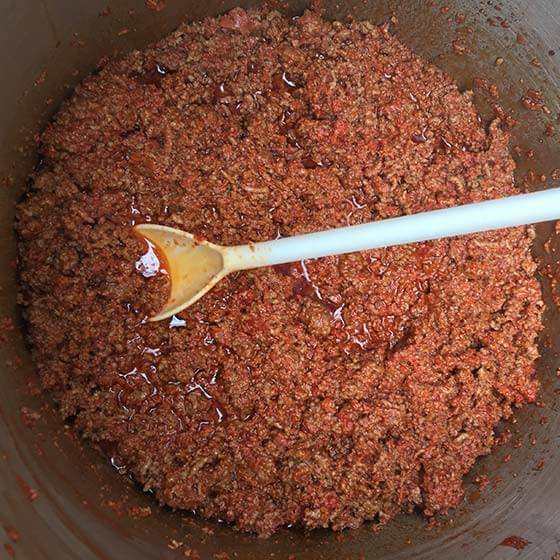 SIX
Add the tomato paste, tomato sauce, and oil. Stir until incorporated.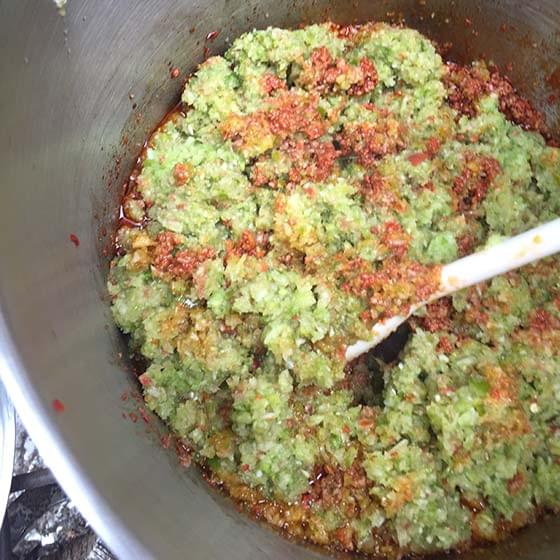 SEVEN
Add all of the vegetables and stir occasionally over medium heat until you get a vigorous simmer. The juice should start to release from the vegetables.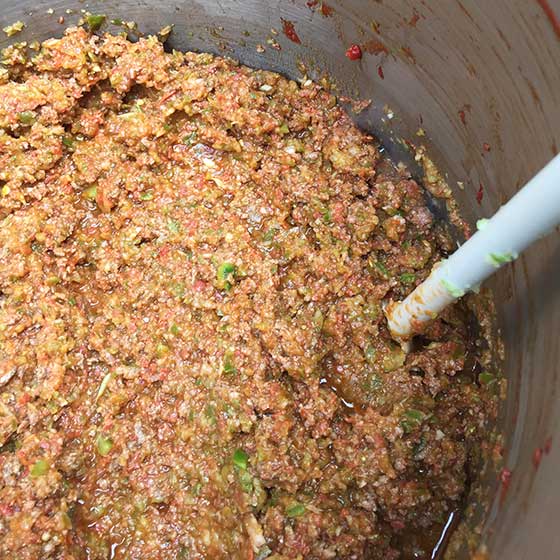 EIGHT
Reduce the heat to low and cover. Simmer the mixture for about 60 to 90 minutes, stirring occasionally. Add the reserved juice if needed.*
NINE
Add salt to taste. Then add chili peppers to increase the spicyness as you like it.
TEN
Can or freeze the mixture. If canning in Pint jars leave 1 inch head space and can at 10 pounds pressure for 75 Minutes.
NOTE: We cooked ours on an outdoor camp stove by Campchef's outdoor propane camp stove. If you're using a conventional range, adjust your cooking time.
Make Your South American Sandwiches
To make your sandwich, pour a pint of South Americans into a pot and warm it on the stove or put it in a microwave-safe container and warm it in the microwave.
When it's warm, load up several buns (5 if you're like my wife, 3 if you're like my son) with the warmed filling. I like to toast my buns, but that's totally optional. You can garnish your sandwich with cheese (pepper jack or Colby jack are my favorites). If you want to get all healthy, add a layer of lettuce, maybe a slice of tomato and onion, and consider adding a pickle as you might for a good hamburger. I like them straight up, no extra veg and no extra toppings. On the Range, we keep it simple and real, and that's part of what I appreciate about this recipe. These are also great on hot dogs.
0.25-0.5 Cup (60-120 ml) Olive Oil

5 pounds (2.25 kg) – Hamburger using 80% meat and 20% fat

1.5 pounds (680 g) – Pepperoni Sausage

4 pounds (2 kg) – Onions

6 – Green Peppers

12 oz (355 ml) – Tomato Paste

12 oz  (355 ml)- Tomato Sauce

1 – Celery Stalk

8 – Roma Tomatoes

4 – Anaheim or Hungarian Banana

Chili Peppers

5 – Serano or Jalapeño Pepper
~2 Tbsp (30 ml) – Salt (to taste)

~1.5 Tbsp (22 ml) – Red Chile Pepper Flakes (to taste)

~1 tsp (5 ml) – Cayenne Powder